We spent a wonderful few days in stunning South Devon, carrying out some garden clearance work and then relaxing in our friends lovely sun filled garden, taking great country walks and 'resting' at the cosy river side pubs – what a beautiful part of the country.
We would recommend a visit to the Berry Pomeroy Castle, Totnes – with breathtaking views of the wooded valley and apparently one of the most haunted castles in England, the kids loved running riot through the ruins! Great garden design ideas to be had inside the castle with the blue sky being framed by the ancient stone walls and spectacular architectural luminescent green ferns. Moss growing high up where the roof used to be – nature taking over and draping the wall with its painterly brush –an alternative view on the roof garden and natural living wall!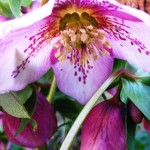 Saw some particularly striking examples of mass planted Hellebores, which worked to great effect. These elegant woodland perennials are perfect for brightening up shady areas and can perform for you from December through to April, with so many varieties to choose from they are surely a must on the winter interest plant list. Whilst many are chosen for their architectural foliage, the flowers can be hidden by the large leaves of some varieties, so a top tip is to remove the older leaves at the centre of the clump, opening them up to highlight the exquisite flowers within. On our return from the South West, we noticed the South East gardens were positively heaving with Hellebores welcoming us home – beautiful.