Memories from RHS Hampton Court flower show are still fresh for us. It was great to be around people who are excited about and seeking inspiration from great garden design and quality garden build. We went on one of those July  heat wave days, the sunshine spotlighting the wide range of impressive planting schemes and hard landscaping structures in all the glory of the show gardens….so much to see and so many people to see 'through'! – This popular RHS event was busy from the start!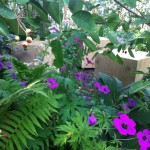 'Athanasia' designed by David Sarton was a real find for us, a framing of the essence of a woodland corner, so serene, it created a peaceful space despite the many onlookers desperate to get a look. Lush green planting with splashes of vibrant flowers, performing brilliantly in the shady corners….it was as if someone had cut a square out of a Sussex wood and placed it on the show garden promenade – a simple and evocative garden design and a well deserved Gold Winner.
Another garden that worked beautifully was 'Spirits of the Land' designed by Mariko Naka, part of the conceptual gardens area of the show, inspired by Japanese cultural history relating to Shinto spirits, this garden had  a strong interactive element, where threads suspended from raised rings 'danced' with the wind, playing with and seemingly protecting the flower rich planting below. Captivating and simple, it was one of our highlights and obviously one of the judges with a Silver medal awarded.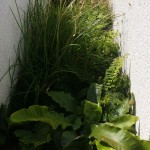 'The Clints and Grykes Garden' designed by Benedict Green Garden Design, stood out from the rest with the bold and simple lines of its structure, form and planting design. The pale grey of the hard landscaped paving framed the green foliage planting perfectly, in which the smallest splashes of flower colour were able to excel. It highlighted the rare habitats that can be found in British Limestone pavements beautifully. The full benefit of this design could be seen when standing over it, the hidden beauty available to those who took time to 'look closer'.  It was refreshing to see a garden with such a strong clear concept, a silver-gilt awarded by the judges.
So many more highlights – but these are the ones that have stayed in our palette of garden inspiration. Bring on the next one….