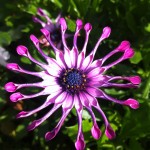 Futurescape 2013 is becoming a must attend event for anyone involved in the UK garden landscaping and garden design industry. It happened yesterday and had a wide ranging choice of seminars including panel debates bringing together leading experts and recognised names in the field.  As most of the team are out building gardens in the pouring rain, I am in the relative heat of the office, surrounded by hastily written notes from each seminar wondering how to decipher and soak up my scrawlings…. information imparted by professional, inspiring, wise and witty presenters…the event had a great atmosphere which made us proud to be part of this industry… Lots of highlights, but here are just a few..
We really enjoyed the wonderfully direct and honest opinions of the Bad Tempered Gardener, aka Anne Wareham, who stated in the programme notes that water in British gardens is characterised by its resemblance to the "great grey-green greasy Limpopo River". Anne opened our eyes to the strange practice many have of ignoring the maintenance of water in the garden and obsessing on the perfection of grass. She highlighted that, of course one of extraordinary qualities of water within the garden is its ability to 'reflect' and not its ability to look filthy and be covered with Algae! An image of a sad looking classic statue from which water was spurting from the mouth was labelled 'want to watch someone dribble?'…it exemplified a conservative approach to water that so many people still have and yet there are so many elegant and playful approaches to water in the garden that can inspire, as long as they are used in the right context…Anne particularly focused on George Carter's water designs at Burghley House, which are playful and interactive and really popular with children.  Some great tips on what not to use for edges of a garden pond, how to tackle the problem of visible pond liners and how to maintain a reflective pool with a daily 10 minutes of powerful water spraying and the use of a 'strengthened by duck tape' pool net (it lasts two years rather than one that way!), Anne also recommended using Dyofix as a dye for reflective ponds. Anne's no frills approach was really refreshing, summed up by showing us the most simple and effective tool for gathering the blanket weed in her own garden at Veddw House Garden– a spaghetti server! All in all, a presentation that gave garden designer and contractors some really useful things to consider when designing and building gardens and when speaking to clients about the benefits a pitfalls of including and maintaining water in the garden.
Another great presentation was given by Anne-Marie Powell, who showed some beautiful images of planting from her own garden design work and kicked off by admitting that the plants, plants, plants presentation had become known as the pants, pants, pants presentation in the office…a great way to start this fun, knowledgeable and energy filled presentation which showed off a real love of plants, skill of design and excitement about what plants can do….particularly when they misbehave! Some great practical tips too, with a focus on the importance of soil condition and preparation and the philosophy of right plant, right place. Anne-Marie shared a list of favourite bulbs whilst talking about the sheer brilliance of what they do and how they perform in her gardens, which included Tulipa 'Prinses Irene', Tulipa 'Havran', Tulipa 'Ballerina', Tulipa 'Spring Green' and Allium Atropurpureum…very tempted to get out in the pouring Sussex rain right now to plant up all the bulbs we have in boxes waiting to be opened and sunk into that soil to grow! We also love the buried treasure of bulbs in the garden…
The 'Beauty is in the Build' and the 'Detail is in the Design' panels covered a range of relevant subjects and it was great to hear honest opinions and the sharing of experiences from people who are the top of their field. We would highly recommend anyone involved in the industry to attend in 2014.  Futurescape is organised and delivered by the team at Pro Landscaper.