Bursting at the door….I believe our eldest really thought her dream of becoming a pirate Queen was about to come true. In fact, I've never seen her so eager to go for a walk!  On a crisp Gloucestershire morning, the last day of 2013, the time had finally come to discover Geocaching ; the real-world outdoor treasure hunting game. We were ready and willing to let technology guide our journey…phone in hand, maps discarded…bring it on!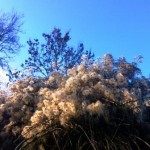 Off we went through prehistoric woodland… a Narnia world full of moss monsters, legs of giants and bearded trees…through mud, brambles and leaf ditch traps….Heart's pounding, an iphone battery dying, panic starting…the race was on.
At last the signal from the phone -we were within 15 metres of a hidden cache. A hearty pirate cry was unleashed when from under a large pile of logs a box was found and flung open to reveal logbook and trinkets to swap. As delighted she was with the green plastic whistle, her proudest moment was writing her name and documenting the cache she traded in the little logbook, for someone else to read and someone else to find.
Back in our lovely Lewes now and very excited to see just how many Geocaches are waiting to be discovered in our local area. A brilliant activity for us landscapers to be inspired by the natural world around us and for our kid's imaginations to run wild –more pirate adventures ahead. Just how we like it.
Nymans gardens, West Sussex now have two geocaching trails for kids and even lend out GPS devices if you don't have one. We'll be visiting very soon ….it's listed under their 50 things to do before you're 11 ¾……us grown-ups have lots of catching up to do!