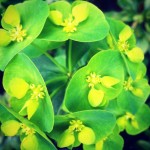 I was lucky enough to spend my time this week discovering  sumptuous plant nursery pickings at How Green Nursery . A plant nursery with great perennial stock, top quality plants and staff with expert knowledge and infectious passion for all things horticultural.  My highlights included a beautiful red Primula veris, the lure of  the lime of Euphorbia amygdaloides var. robbiae and Dicentra spectabilus 'valentine'.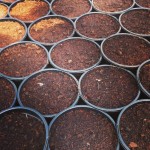 Sedum on mass, buried treasures holding who knows what and rows of Nepeta 'Six Hills Giant' with it's purple promise. Beautiful Myrrhis odorata, top quality Taxus Baccata balls and the incredible silvery furry foliage of Salvia argentea.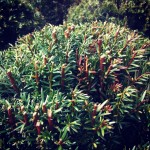 Also spent the day relishing in reclamation yards while in search of a trough for a water feature with one of the garden designers we work with. It is going to be beautiful! So much to choose from and some great finds. My favourite were these tactile terracota balls which apparently go on top of bean poles – they are definitely on top of my wish list.  I can't wait to get my hands on some of these planters for our own garden – imagining them full with evergreens and a tulip spectacle.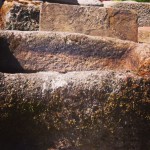 A great couple of inspirational trips. Always worth it to ignite ideas and get excited about gardens, plants and design all over again. Even better to go with a friend.
This Lewes Landscaper will be going on many more of these kind of adventures in the near future! How Green Nursery are a wholesale nursery but their next public open day is on Sat 13 and Sun 14th June. I highly recommend a visit – get that date in your diary and don't miss out!
X Sophs