The power of plants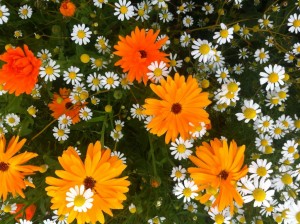 Every day this week, I have planted something new. I have walked away from the screen and the endless 'to do lists' and ventured  into the garden to give plants a 'home'. At the end of each day I have walked around our garden, checked in on these plants and gained immense satisfaction from their flourishing. Getting outside, feeling the earth on my skin, hearing the buzz and smell of nature makes me happy, gives me focus and brings me a real sense of calmness. This 'time out', however brief has become a vital part of my every day and of my 'well-being'.
Designing to heal
As Landscapers we work with garden designers to build beautiful spaces for our clients. We know what a huge difference good design and build can make to people's lives. Gardens can be many things; an extended living and entertaining space, a peaceful retreat, a place to grow food and plants, a creative outlet, a children's play area. Of course, what gardens vitally provide is a real connection to nature. A good designer will listen to the needs of a client and create beautiful, functional, bespoke spaces that really fit the brief. When a build is complete, it's a great feeling when a client is delighted with a space that will really make a difference to their lives. I am increasingly realising just how transformative people's relationships to their gardens can be. I have been thinking in particular about designing to heal and about spaces that elevate pain and stress. I've been thinking about how the environment you spend time in fundamentally influences your mental and physical state. I have also been considering the power of plants both in relation to their 'actual' ability to heal and in the healing power of their very presence. The next few posts will focus on some of my thoughts around these issues. Here I wanted to concentrate on the wonderful world of A.S Apothecary.
The wonderful World of A.S Apothecary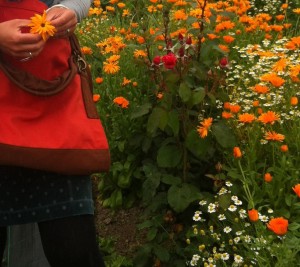 The healing power of plants is a well-known and age old wisdom. The leaves and petals of numerous plants can be used for medical infusions, teas, oils and compresses and these can be an effective and transformative treatment for all types of conditions. Amanda Saurin is the founder of A.S Apothecary, a small batch distillery, based in Plumpton, East Sussex. Amanda is a traditional Apothecary and has worked with herbs and homeopathy for many years developing effective, gentle, bespoke preparations.
Last year, I was lucky enough to take part in a workshop run by Amanda for Lewes Women in Business at the home of A.S Apothecary. First we harvested bundles of exquisite smelling and rich coloured petals from the growing garden and when our baskets were full we went indoors to lay our gathered flower heads on large tables. Groups of us talked, laughed, plucked and gathered together the petals in preparation for the drying and distilling process. Amanda and her team create truly top quality and bespoke products and it was inspiring to witness the care, precision and wisdom through which this alchemy happens. It was a real privilege to be part of the gathering process, to physically touch and smell such an abundance of petals and to share and hear stories and memories evoked by the smell of these beautiful flowers.
A special santuary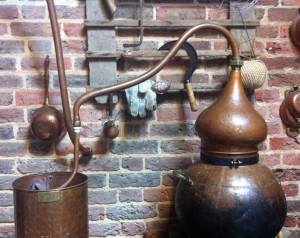 There has been much made recently that soil is good for you, that it has a bacterium that triggers the release of serotonin, which in turn elevates mood and decreases anxiety. These findings make real sense to me and add to understanding why people place such importance on creating their sanctuaries outside. For me, a day spent at A.S Apothecary triggered the same mood elevating, anxiety decreasing, generally feeling great about everything response!  It's worth checking out the fantastic range of courses Amanda runs. My particular favourite is Seed to Scent – A journey into gardening, scent and well-being. Next one scheduled for 2017. There are many shorter courses which I would highly recommend checking out – they are all good for the soul!
Amanda's journal is a treasure chest of ideas and thoughts and a recent addition on #slowbeauty is a lovely read. Amanda feeds her plants with organic comfrey tea, which exemplifies for me her tender approach, wisdom and respect for the plants she works with, the core ingredients for her extraordinary products.  I finish with a quote from Amanda's writing on #slowbeauty. These words resonate with me and capture beautifully why so many people get such a true sense of calmness and perspective through engaging with growing and nurturing their plot of land, however big or small.
"I love the idea that everything works out in the garden if we trust that it will. If we can allow ourselves the time to gently work with the soil and the plants, the flowers will follow with or without us. It gives perspective on our place in the scheme of things and provides comfort in the knowledge that nature reproduces not because of us, but rather despite us – in the best scenario we are just the facilitators of the flowers we hope to encourage."
Amanda Saurin from #Slowbeauty – An Asapoth Interpretation
Notes:
As a member of Lewes Women in Business I was lucky enough to be invited to Amanda's workshop last year. The course Seed to Scent is a wonderful collaboration developed between Amanda Saurin from A.S Apothecary and Catherine Cridland of Inviting Spaces, both members of Lewes Women in Business.
Lewes Women in Business is a not for profit community group that helps professional women with independent businesses in the Lewes District make connections. An A.S Apothecary workshop is coming soon, available exclusively for members.
Check out membership details, I highly recommend it!