In this weeks blog we celebrate industry events, professional development, the quarry as a site for education and inspiration and James Basson's 'The M & G' garden. We also highlight Shoots great planting list resource for show gardens.
We were lucky enough to go to a brilliant presentation by the Stone Federation at The Landscape Show this month. The stone federation's mission is to promote the use of natural stone as a sustainable and versatile building material of choice. As most of the garden designers we work with specify natural stone in their projects this was one not to miss.
No two pieces of natural stone look exactly the same in both texture and colour and this makes it a unique and interesting material to work with. Indeed it is an exciting time when stone from a supplier is unpacked on site and the setting out begins in earnest.
With over 8,000 natural stones to choose from in the current market, it is important for the garden designers we work with and ourselves to know how to make sure that the stone choice made is the right choice.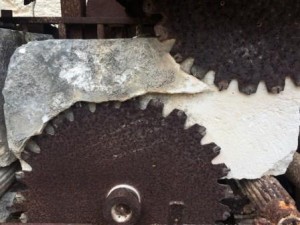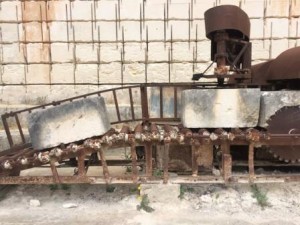 There are a huge range of factors to consider when specifying and installing stone as part of a garden build. Not all stones are suited to every situation and any stone specified needs to be fit for purpose. Research is key, we work with stone suppliers who are at the top of their game in relation to quality and experience and they give great advice for individual projects.
For larger projects, the stone federation highlighted the benefits of visiting a quarry where you are thinking of sourcing the stone from. This allows you to get an in depth understanding of the stone by looking at the geological characteristics, seeing how it is extracted, examining the faces of the stone and seeing at close hand how the stone has been formed over time. There is no point specifying large slabs at a certain depth for a particular stone if the quarry that produces it is only able to produce limited slabs at a restricted depth.
You can also identify stock levels and make future reserves so that you can be sure that the material will be available at the time of build. For ourselves, our clients and many of the garden designers we work with it's important that you know where the stone you are using comes from. Having an understanding of the environmental impact, sustainability and an assurance that the sourcing is ethical and responsible is key. We use stone suppliers who work closely with organisations such as the ethical trading initiative and the forest trust which enable them to provide us with the assurances we need. We would highly recommend checking out the stone federation's website for a rich source of further information, a one stop shop for all queries stone related. We were particularly interested in their blog about Indigenous stones of Great Britain and where they are located. Lots of great information on there.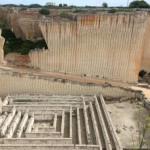 We recently visited Lithica, a quarry located in Menorca. No longer a working quarry, Lithica has been lovingly restored since the 1990's and has become a series of gardens, walkways and huge stone monuments. These are stark, imposing and beautiful all at the same time, epic in their size and a space where nature has been able to thrive and take over.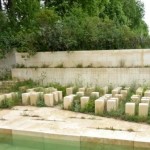 You can see why James Basson, the garden designer who won  best in show at Chelsea 2017 for 'The M & G Garden' was so inspired by these extraordinary landscapes. His inspiration came from an abandoned Maltese quarry and featured monumental blocks of Limestone planted with grasses, evergreens and perennials. Plants that are unique to the arid Mediterranean environment of Malta.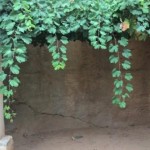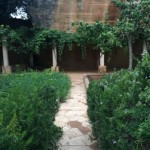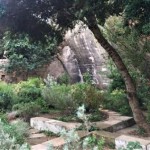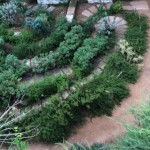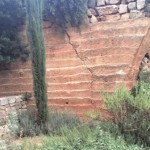 The quarry at Lithica was used for sandstone abstraction and has two contrasting areas created by two very distinct methods of quarrying. One area was created by manual quarrying, which has formed labyrinths of stone where vegetation has grown up in-between and tumbles from cliff tops up high. A botanical circuit has been developed here with different zones such as those of the medieval kitchen and herb gardens where native plants flourish. It was great to see a myriad of garden designs hiding around each corner.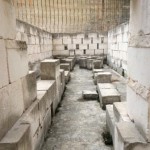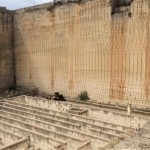 As a polar opposite you have the area that remains from the modern quarry extraction technique, where the scarred remains are vast, dominant and impressive. Walls are huge and the machines have created a beautiful minimalist pattern through this modern method of extraction. Patterns echoed in James Basson's main monolith in 'The M & G garden'. A huge sculptural maze forms the centre piece of this space, created from the blocks of quarried rock. The maze leads you to a stunning water feature. A space that is awe inspiring from below when looking up and disturbingly reminiscent of the set of a dystopian film. It is just as impressive from above –where the scale of the space makes the humans below look like ants in the landscape. You can see why these landscapes are full of design inspiration.
The more structured planting on the botanical circuit is beautiful, maintained and well-watered with a complicated irrigation system in place to keep the plants thriving during the hot season. Just as beautiful are the plants that appear through the cracks that have been spread by seed and thrive on their own in the dry Mediterranean heat.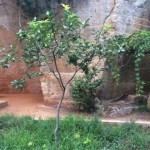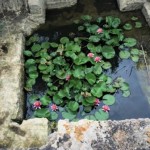 To research plants that do well in these conditions a great online resource is Shoot. Shoot has created a fantastic central archive of many of the RHS show gardens, in fact they have the RHS Hampton Court and RHS Chelsea Flower show gardens listed along accompanying plant lists from as far back as 2005. They also have members and garden designers gardens highlighted with plant lists available. Click here to get a full planting list of James Basson's 'The M & G Garden', which has very similar plants to that in Lithica.  Hard not to spend half a day getting lost in great plant inspiration on this great website.
There is a lovely film about the making  of 'The M & G Garden' which shows the epic nature of the quarry where the inspiration to create the garden came from as well as all the steps involved to get the stone quarried, bespoke made, shipped and constructed for the Chelsea show. What a project!
Industry events such as The Landscape Show provide vital opportunities to keep us ahead of the game and up to date with the current standards that should be adhered to. This event was full of great seminars from professionals at the top of their game. An inspiring and enjoyable day.
The next industry event we will be attending is Futurescape on 14th November 2017, we have been attending this landscaping trade event since its inception and highly recommend it. A brilliant opportunity to meet suppliers, learn new things, get inspired, test new products and hang out with the lovely people of the landscaping, plant and design world. What's not to like.