The Simon Scott Landscaping Garden WOW list
Our lovely family friend is the uber talented sculptor Jilly Sutton, who always WOW's us with her beautiful work. It was great to see so many of her pieces at the always inspiring Hannah Peschar Sculpture garden when we visited a few years back. We highlight the sculpture garden and some of the artists that inspired us.
We are so lucky to be based in Lewes, which is bursting at the seems with creative artists and makers. We shine a spotlight on the brilliant local artist Michelle Dufaur with her sculptures inspired by the local wildlife and highlight The Artwave festival which  runs from 11th September to 26th September.
The Hannah Peschar Sculpture Garden
Autumn is now upon us and the garden now starts to shift into wonderful foliage colour WOW's of the seasons change alongwith the long flowering perennials and grasses taking their turn in the limelight. Evergreen structural planting which has provided form and backdrop to Summer wonder now sits steady and patiently waiting for it's time to shine during the winter months, where it will take centre stage.
Of course sculpture is also a brilliant additional to any garden large or small providing focal points all year round and crucial winter structure when most of the perennials are by then under the soil. What we love about the Hannan Peschar Sculpture Garden, based in Surrey is the range of sculpture on show catering for many varied tastes, but also highlighting how placing a sculpture 'well' can provoke a series of responses and emotions. A tour of the garden exemplifies what sculpture can do to a space, it includes examples of playfullness, movement, direction, framing as well as visual trickery.  So many to choose from, but we include images here of some of our favourites.
The garden is open from April to the end of October so do book a slot and see which sculptures inspire you. The sculptures are situated in the most magical woodland gardens which are not to be missed. In this space beautiful lush plants with bold foliage and mature trees support, frame and enhance this changing curated collection of artists work.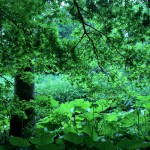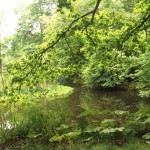 Art, Inspiration and Lewes Artwave Festival
Back in June, we had a wonderful time at the 'Beyond Brighton festival', exploring some of the artists open houses. We were particularly excited to be seeing the work of Barcombe based sculptor Michelle Dufaur, whose wonderful outdoor venue 'Field' was the perfect location to show off her talent. Her work is currently inspired by the richness of local wildlife. We are in love with the hares, beautifully located on a mown pathway in a wildflower lawn and we had much fun spotting the other sculptures on show. Do check out her website in the links section below where you can see the breadth of her currect collection.
From 11th to 26th September, The Artwave Festival in Lewes and the surrounding areas will be offering many opportunities to be inspired by the creative talent of the people based in and around the area. Artwave gives you the chance to discover new work, meet artists and makers, and buy directly from them. There are many 'art' trails around Lewes, Seaford and Newhaven as well as lots of the villages surrounding them. There is also an 'outdoor venue' trail, which we feel sure will have the work of many sculptors on show and perhaps a great opportunity to invest in a sculpture for your own garden.  We are currently planning what to see where and hope to update this blog with some of our recommendations as we discover more. Check out the links section below for The Artwave Festival website which holds comprehensive information of whats on and where. Watch this space"
Wishing you a September full of WOW moments and inspiration!
Links:
Hannah Peschar Sculpture Garden