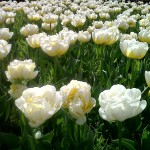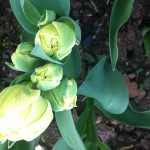 In their incredible garden at Wisley, the RHS team along with their garden design collaborators use the impact of mass planting with irrevocable style. We particularly love the stunning Piet Oudolf borders and could spend hours in the area designed by Tom Stuart-Smith.
The 'Tremendous Tulips' garden is a new addition and although contrasting in approach, has huge impact in relation to colour and is homage to the beauty of the tulip bulb…it uses 14,000 tulips and over 350 varieties…with some bulbs dating back to the 16th Century.  They are blooming beautifully, and there is not much time till these wonders fade, so catch them at their peak if you can. A few of our favourites are on display here.
It's always really satisfying when you can combine a trip that feeds your delight in gardening and also satisfies the adventuring younger parties of your group.  Wisley is fantastic for little ones too; they can run free and have lots of fun at the 'Wild at Wisley' playground. The tropical glasshouse provides a space where there is no limit to the imagination, many 'Alien flowers' were spotted there! Wisley has a great line up for May half term, check out more details here – our personal favourite is the bug hotel workshop – bring on the beetles!