Simon Scott Landscaping in House and Garden
We are so excited that Simon Scott Landscaping have been included in the 'Back to Black' feature in November's issue of House and Garden.
Credit and huge thanks for allowing us to show these pages goes to the lovely David Nicholls, Deputy Editor of House and Garden who wrote the feature and the lovely Photographer Will Pryce, whose beautiful photographs are featured.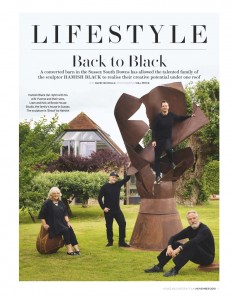 The feature focuses on the super talented Hamish, Yvonne, Keir and Liam Black and their converted nineteenth-century Sussex family barn. The barn is now a modern live-work space which, as well as being home to Hamish and Yvonne, is also home to art studios, meeting rooms and a huge gallery. It's a space which the whole family can use to pursue their own creative businesses and it is very beautiful. It is a place that invites creativity and experimentation. It is our kind of place.
Many moons ago, we were lucky enough to see this extraordinary building in development and it was great to have the chance to visit once again for lunch with the family during the House and Garden shoot. The finished house works so beautifully with its open spaces and glorious light streaming through the epic roof, wide windows and glass doors. Keir Black, is the founder and principal architect of Field Architecture and was, of course, the architect for this project. We were so delighted to find out that it received recognition from the Sussex Heritage Trust for its residential design and that it Field Architecture had won the award for Retrofit House (under £500,000) at last year's Architect's Journal Retrofit Awards.
The blurring of indoors and outdoors in this space is achieved so perfectly with large bi-fold doors that open up a huge section of the side of the house and gallery space onto the central courtyard space. Spaces also connect beautifully with the doors on the other side of the building pulling you through the space which then open out onto a smaller beautifully formed garden courtyard. The windows to the kitchen have also been designed so that the corner 'disappears' as you open it, really utilising the aspect of the house. This is a real 'outdoor' kitchen where gathering of food, family and their conversations can happen both inside and out.
The garden to this beautiful place is an inspiration, created and developed organically and over time by Hamish and Yvonne, it has stunning views and as well as being home to a beautiful orchard and kitchen garden, it is also host to some of Hamish's sculptures. We love the first page of the article where the family is pictured surrounding (and in!) Hamish's sculptor 'Shout'. Anyone local to Brighton will also know Hamish's sculpture 'Afloat' which has become such an iconic Brighton landmark positioned on the seafront.
Inside the house, the gallery displays more of Hamish's work and also Yvonne's bold beautiful torn paper and metal constructed reliefs which work so well displayed on the walls of this light, bright and minimal space.
Keir also designed the relocatable outdoor building in the grounds now used as a recording studio by Liam who is a music producer. This happens to one of the best designed 'outdoor rooms' we know, clad with black recycled sheet material with big plate glass windows, it is another space that invites the outdoor in with ingenious simplicity and extraordinary results. One day there will be a whole blog just about this 'outdoor room'. It's one of our favourite places.
In the article Sophie is featured with Keir on the site of a local project we are working on together, we love working with such a talented architect who considers the surrounding landscape to be such a vital part of his design process.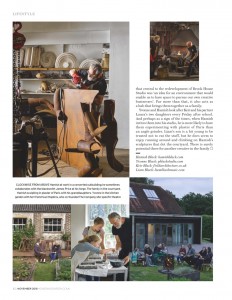 It was also lovely to see included in the same feature our friend, the very talented blacksmith and designer James Price pictured at his forge with Hamish. James has a wide portfolio of work and often works with Garden Designers as well as private clients to create beautiful bespoke original metalwork ranging from gates, railings, pergolas and benches. A particular favourite of ours is the bespoke wheat and scythes architectural railings James created for a client who had asked for a design with an agricultural influence. The perfect boundary line for a Sussex down lands garden.
We were also so delighted to see the stunning fire bowl James created for Andy Sturgeon's Daily Telegraph show garden at the RHS Chelsea flower show a couple of years ago.
It was a real privilege to be part of this House and Garden feature and to be mentioned in the same context as other creative people connected to the Black family.
Anna Garner, is founder of the artesian website The Garnered, which is an online retail space that works closely with designers across the globe. It was lovely to discover that our Lewes based friend and amazing jeweller Abby Mosseri is the first face you see under the designers section of the website. Do take some time to check out all the designers and artisan's featured on The Garnered, we spent hours looking at all the truly beautiful products, such a lovely collection.
Also featured were John Booth, chair of trustees of Pallant House Gallery in Chichester, Tim Ashley, photographer and writer, Ann Elliot, Writer and curator of Gallery57 and Suzi Hopkins Co-founder of site specific theatre, The Company. Definitely worth checking out the gallery's websites for information about their upcoming exhibitions as well as reading about the fascinating work of The Company.
November's issue of House and Garden is full of inspirational features on beautiful gardens and horticulture. Heale House and Garden in Wiltshire is shown in all its glory including a picture of the most lovely apple and pear tunnel that bisects the kitchen garden. Also featured is 'Part 2' of Clare Foster's The Tree series 'Branch lines' which is an exploration of different methods of training fruit trees and a also include a gorgeous series of black and white images of espalier, fan and cordon trees. 'Part 1' of the Tree Series is available online and about 'How to choose trees for you garden'.
We are already looking forward to the December issue of House and Garden which is out now!
For further information about the work of Hamish, Yvonne, Keir and Liam Black, please follow the links below.
See Kier's work at Field Architecture here.
See Hamish's work here.
See Yvonne's work here.
See Kier's work at Field Architecture here.
See Liam's work here.
And to see the beautiful photographs of Will Pryce visit here.