So for the past few weeks it hasn't stopped raining and as the team go out everyday, whatever the weather to build what will be a beautiful garden, I sit somewhat guiltily in the warmth and safety of the office. It's given me some time to reflect on what a busy few months it's been. We were delighted to have been invited once again to take part in The Landscape Show in London and we were very pleased to have been featured once again in their preview magazine.
I was honoured to chair a discussion with some really talented Garden Designers whose generosity and honesty during the discussion was really affirming. Our panel title was 'Staying in Love with our Industry: Celebrating the Highs and Surviving the Lows' and as you can imagine discussion covered a real range of topics. A highlight for us was hearing about and contributing to positive models of how Landscapers and Garden Designers can work together to support each other to create beautiful projects that clients love. The discussion also shone a light of the incredible work of Perennial an amazing organisation and the only UK charity dedicated to helping people who work in horticulture when times get tough. Do check them out if you think they might be able to help and do support them if you can. My fantastic panel were the hugely talented Bo Cook of Bo Cook Landscape and Garden Design, Karen McClure of Karen McClure Garden and Landscape Design and Rachel Reynolds of Reynolds Design. Do check out their beautiful work. The Landscape show was once again a brilliant event and an opportunity to gain knowledge, new insights, meet up with the great suppliers we work with and discover new materials on the market. Going to events such as these build the wonderful support network that exists in our industry. Check out my blog on 2018's show to see why these events are so important.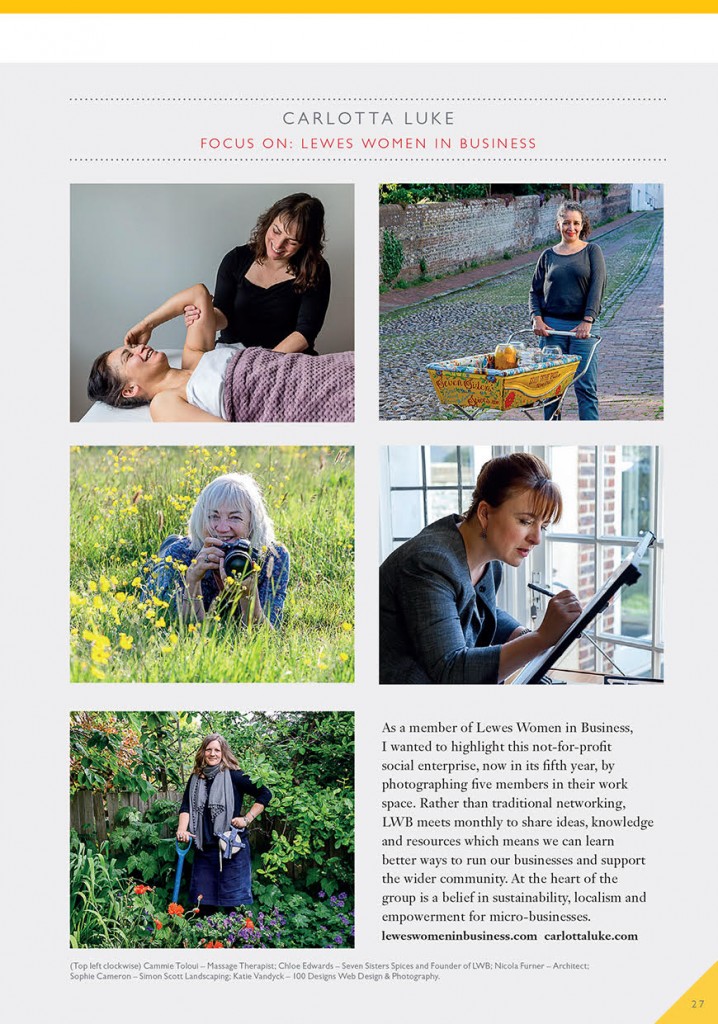 Talking of vital networks, I was so delighted when I was asked by wonderful photographer Carlotta Luke of Carlotta Luke Photography to be on her monthly Viva Lewes page which in July focused on Lewes Women in Business (LWB), a friendly not-for-profit networking group. This group brings together independent business women at monthly meetings in order to share resources, ideas, for mutual support, mentoring, networking and collaboration. It has been going for five years and it has been such a great resource for me and our business. I highly recommend you check it out if you can. In the spirit of celebrating networks and the people in them I wanted to share the work of the really talented women who I feature with in Carlotta's Viva Lewes page. Cammie Toloui offers intuitive, deep, massage therapy in Lewes. Check out the different types of massage she does and read the fantastic testimonials on her website, I have heard so many people raving about her amazing massage, so hoping my time will come soon. Chloe Therese is the founder of LWB and is truly an inspiration as a person and as a maker of delicious-ness! I defy you not to drool as you check out the beautiful images of her produce on her website Seven Sisters' Spices. Chloe combines the work of a catering & teaching kitchen with the artisanal small batch production of spice blends, dukkahs, curry kits & seasonal pickles, chutneys & ready meals. Buy them all up as soon as you get the chance because they are sooooo good! I want to do every single one of her workshops please! Oh and she is also brilliant at growing beautiful bright Dahlia's – not jealous at all! Nicola Furner of Nicola Furner Architects works on really interesting projects in Lewes and the surrounding areas, creating innovative, beautiful and affordable designs. She is also a passionate advocate of sustainability and a supporter of local suppliers and craftspeople, so we have been lucky enough to have had many meetings to discuss possibilities of one day working together. Katie Vandyck is a website maker and photographer, check out her beautiful work at 100Designs Websites. Katie specialises in websites for small businesses and independent traders and is a great person to work with so do take a look and see what she can do for you. Finally I had to highlight (amongst lots of her brilliant projects) the particular strand of work Carlotta does in architectural documentary. Carlotta has recently worked with the Stephen Lawrence Charitable Trust, where she spent a year documenting the transformation of its centre into a coworking hub that now supports up and coming architects and she was shortlisted and came second for a photography award with one of my favourite images of hers. Do check it out and find out more information about the project here. Other developments captured by Carlotta and a bit closer to Lewes are the development of The Brighton Dome Corn Exchange (watch out for the skeletons) and of course The Depot. There are many more women who are part of this networking group and they all deserve a big shout out, so please do check out their work on The LWB Directory on the website. For any Brighton and Lewes locals a date for you diaries is the Lewes Women in Business Pop Up Christmas Emporium returning for its 5th year. This year sharing the day with Made in Brighton's Art Fair up at the Lewes Town Hall, the Emporium will run on Saturday 30th November from 10.30am to 5pm at the All Saints Centre, Friars Walk. Entry is free, Caccia & Tails are running the café (delicious delicious delicious!) and there will be over 20 local female run independent businesses selling their wares, from jewellery to spices, ceramics to art prints and much more besides. A delightful way to start your present buying while supporting the local Lewes economy.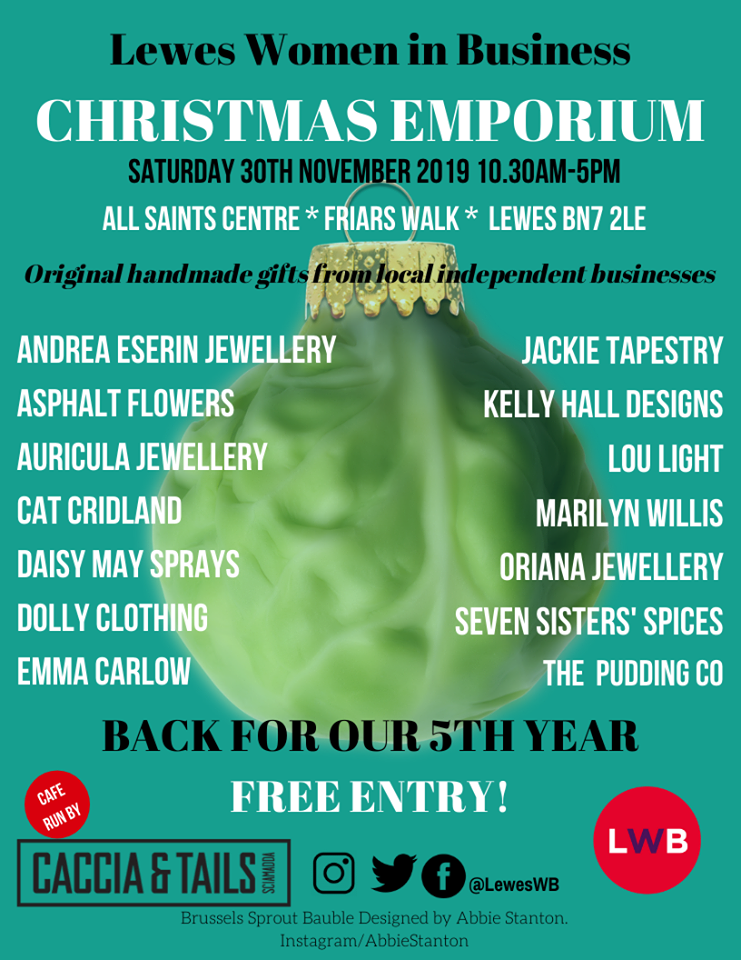 Lastly to what we got up to this Summer…….him indoors (whose always outdoors) only had a week off the tools, so we walked, swam, surfed, ate delicious food and had some special time together as a family in deepest beautiful West Wales – It was lovely. In the extra week I had, I decided my children and I needed some more gardens in our lives (much to their delight!) so I managed to see two gardens I have been wanting to see for ages. Garden Designer Jo Thompson has designed the most beautiful new Cool Garden at RHS Rosemoor in Devon, see some really stunning images of it at Jo Thompson Landscape and Garden Design. It was simply breathtaking and I want to return year after year. Beautiful hard landscape bespoke details with a curved waterway and stunning planting with such a lovely palette of colours and range of textures. I really loved it.
And I finally managed to see The Lost Gardens of Heligan in Cornwall. These beautiful gardens and their story deserve a whole blog to themselves but to summarise Heligan's historic gardens were unknown and unseen only 29 years ago; lost to nature since the outbreak of WW1. It was a chance discovery of a door in the ruins that led to the garden's restoration. Imagine being the first person to open that door! I feel I only really had the chance to see the very tip of it's magic so I will definitely return to this lovely place.
And as a final goodbye to the streaming light of summer and blissful warm breezy evenings, I only just managed to catch one of my favourite East Sussex gardens Sussex Prairies on a day in early October and nearly it's last open day of the season. This place has such magic for me, I always return every year. See my blog on Textured Landscapes to see why I love it so much.
Next year, I have promised myself I will go at least four times to Sussex Prairies to see it in all its glorious seasonal change. Now onwards to Autumn adventures and please (especially for him outdoors) let there be an end to the continuing pitter patter of heavy rain on my window.